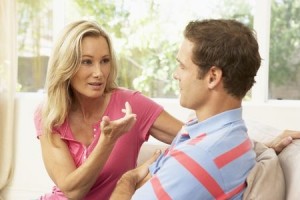 Perfecting the Art of the Fair Fight
For many married couples – even Christian couples – arguments place a real strain on their marriages. For some, they struggle with coming to an agreement on the "big" decisions, such as how to discipline their children, or how to spend money. Others argue over even the smallest of details, like where to go for dinner on a Friday night, or what shows to watch on television.
I've worked with many different couples who found themselves struggling with agreeing on both big and small issues. However, I have noticed that there are many things that can be changed through learning how to fight fairly. Today I'd like to go over a little bit about what that means, and how you can start to make some changes in your own marriage.
Establish the Rules
It is essential for every couple to have rules put in place that allow them to define what "fighting fair" looks like to them. Of course, these rules will vary from couple to couple, but they should include something about:
● How much time is needed for a "cool off" period before discussing an issue. ● Whether or not you should implement a promise to never go to bed angry. ● An agreement to not bring up old issues and stick to the subject at hand.
You'll find that once you can establish the rules of fighting fair, teaching yourself to follow them might be a little bit difficult. However, you can teach yourself to follow them if you allow yourself and your spouse some time, as well as a little bit of grace. Following the rules you establish will also help you to come to agreements much more easily.
Be a Great Listener
Asking the right questions and showing empathy helps your spouse feel understood. Shift the focus from yourself and listen for your spouse's pain. Ask questions and communicate respect. Don't be defensive or judgmental. Reflect back what you hear. Ask what concerns your spouse and what you can do to be helpful.
Commit to an Enthusiastic Agreement
Perhaps when you argue, you're committed to being declared the winner of the argument. Many couples make this mistake, and they forget that one of the most important components of marriage is compromise. When you argue with your spouse, no one is ever really the winner, but when you reach an agreement together, you can both benefit from the results. As you resolve to change your style of arguing with your spouse, renew your commitment to reach an enthusiastic agreement on every issue you face.
Learn to Forgive
Even once you establish a new style of working out your problems with your spouse, it's tempting to bring up the old issues that are still pretty fresh in your mind. Learning to forgive your spouse is a very important part of growing together as a couple. God's Word is very clear when it comes to forgiveness. In Ephesians 4:32, it says, "Instead, be kind to each other, tenderhearted, forgiving one another, just as God through Christ has forgiven you." You may have some very tender wounds from your spouse because of harsh words that have been exchanged between you in the past. Once you learn how to forgive, you will find that the pain from those old wounds becomes a distant memory. You'll also receive greater clarity that will help you deal with the new issues you'll face in the future.
When you learn how to fight fair in your marriage, you'll find that it's much easier for you to listen to what your spouse's point of view is, and easier to trust that he or she is doing the same thing for you.
As a Christian Marriage Coach and Counselor, I understand the struggles you're facing in your marriage, and I would love to help those old (or even not-so-old) wounds heal. If you would like to make an appointment to talk about your marriage, and how I might be able to help you, call us today at 843-379-0288 or book your appointment through our online scheduler. If you live outside the Beaufort, SC, we can also work together either by phone or video call.
Marriage is hard work. It takes time and commitment from both sides to truly thrive. However, when you have the right tools, there's nothing you won't be able to accomplish together.