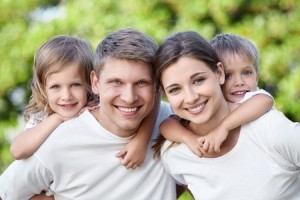 The Challenges of  the Blended Family
Every Christian couple wants their marriage to work, even when the going seems to be getting a little bit tough. However, if you're in a second marriage, you'll find there are suddenly many more challenges to be overcome, especially if you've created a blended family. In fact, according to Focus on the Family, the divorce rate for second marriages is about 67%, and it's 73% for third marriages. While those statistics are staggering, when you take the time to understand the dynamics of a blended family, as well as rely on God to direct the path of your marriage, you can overcome the odds.
LESSONS LEARNED FROM THE FIRST MARRIAGE
Once your first marriage ended, you gave yourself time to heal and time to process what went wrong. You may have even made a list of the things you would do differently if and when you ever got married again. When you did remarry, you felt as though you learned a lot from your first marriage, and you strived to be sure you didn't make the same mistakes again. While there is something to be said about the lessons you learned in your first marriage, if you're now part of a blended family, you're probably encountering some challenges that you just weren't prepared for.
UNDERSTANDING THE STEP-PARENT/STEP-CHILD RELATIONSHIP
As a part of a blended family, you probably didn't have much time to prepare to be a step-parent. Likewise, your step-children probably have a little bit of resentment toward you because you are not their natural mother or father. Even step-children who seem perfectly happy within their blended family can struggle subconsciously at times, sometimes resulting in behavioral issues. When there is stress in your relationship with your step-children, it puts more stress on your marriage, which gives you even more challenges to overcome.
Fortunately, a Christian Marriage Coach and Counselor is available to you if you're facing some difficulties within your blended family and marriage. It's essential for you to understand how unique your challenges really are, and the more you learn about how to properly communicate with your spouse, the more you will strengthen the bond of your marriage.
Did you know that in Bible times, many of the families were blended? It was a struggle for many of them to cope and learn how to maneuver through their unique family dynamics, but with God's help, they overcame. You can too.
At the Beaufort Center For Marriage in Beaufort, SC, we enjoy working with couples who have joined together to create a blended family. I've seen many success stories, and I would love to help you become the next one. If you live outside Beaufort, we can also work together either by phone or video call. Call us today at 843-379-0288 or book your appointment through our online scheduler.
It takes a lot of hard work and dedication to make a blended family work. However, it's important to remember that God is on your side, and He wants to you to succeed most of all. With the help of a Christian Marriage Coach and Counselor, you can make the most of the tools He's given you, and experience happiness in your marriage, as well as blessings within your family.