Dr. Carol Erb's First Book: "Enveloped" Reveals the Secret to Unending Love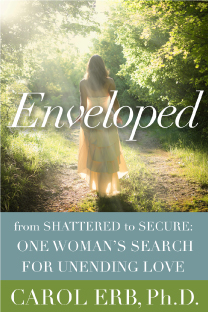 JUST TRUST HIM.
Even now, those words echo through my heart and soul as I consider how much truth is behind them. Those words carried me through life, through death and through one heartache after another.
I understand the tangled emotions when an individual talks about feeling as though they don't recognize their spouse anymore. I understand how they feel when the they are struggling to keep up appearances knowing that their marriage is crashing down and there's nothing they can do about it.
I UNDERSTAND. I HAVE BEEN THERE.
My story is far from simple, but it is raw and at times it is unsettling. Enveloped is the opening of my heart. I wrote it to give you a glimpse into my life and the pain I endured through loss, death and betrayal. I wrote it so that you or someone close to you could experience what it's like to trust God anyway.
I can't say that I always knew God's plan because I didn't. However, something in my spirit told me that He did have a plan for my life and that it was a good one. I hung onto that. While I was drowning in sorrow over the way my mother exited my life, the anguish I experienced over the tragic death of my father- and later uncovering the gut-wrenching truth of my husband's infidelity, I knew God had a plan.
I want you to know that too.
ENVELOPED~ FROM SHATTERED TO SECURE IS:
• the result of God penning the story of my life. While there was much sorrow and sadness there was also abundant peace, joy and love. It is important to remember that He always has the victory. I cling to that truth and I pray that you do too.
•wonderful for personal study, but it's also a great tool to use in women's Bible studies and book clubs. You'll receive the reader's guide as a free gift that you can download from my new book website, which I will announce soon.
• is scheduled to be released this June! You will be able to find it on Amazon.

BE ENCOURAGED! Although there may be sadness and heartache in life, and although the enemy might seem to be triumphant for a little while, God has overcome him! I pray that as you read this book, God will envelop you as He has enveloped me.
PS: You are invited you to "Like" my Facebook page here and follow me on my author's journey!
WHAT PEOPLE ARE SAYING:
"I was hooked from the opening sentence of Enveloped – and it just got better from there. This one woman's story is a story for all of us. God can heal all wounds, and Carol reminds us of this as we see her personally move from shock to heartbreak to wholeness and happiness. Please read this book. It is simply lovely."

Casey Truffo, marriage & family therapist, author, and private practice coach
"In Enveloped, Dr. Carol Erb provides a powerful combination of personal experience and professional wisdom. Carol lived it, so she gets it. She will help you get through your crisis and live the life God has planned for you."
Dr. David Clarke, Christian psychologist, speaker, and author of I Don't Love You Anymore
"Enveloped is a true story of our friend whom we watched walk through many disappointments, obstacles, and insurmountable challenges. Carol had every 'right' to bury herself in self-pity and bitterness, but instead she pursued God's direction and will for her life. Her story inspires us to walk with a confident faith in our personal and sovereign God who 'will never leave us nor forsake us.'"
Winston and Jayne Hodges, Marriage Mentoring Ministry
"Enveloped is a book of encouragement. We all have times when we feel alone and rejected. Carol's journey through pain and suffering and ultimately her growth in the Lord give us all hope to continue on through our journeys. This book encourages us to know that our true source of love, hope, and peace comes from our Heavenly Father. He will never leave or forsake us. He gives us His peace in the midst of our storms – He truly gives us beauty for ashes."
Dr. Phyllis Arno, author, speaker, and co-founder of the National Christian Counselors Association
Don't forget to "Like" my Facebook page and follow me on my author's journey! Click here!