The Pathway from Betrayal to Healing: a private one-on-one recovery program for wives whose trust has been broken in marriage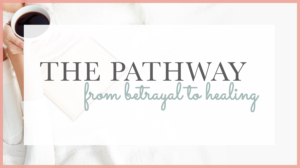 With the right guidance and support, it is possible to heal from your husband's struggle with pornography, infidelity, or sexual addiction. Despite your love for your husband, you've discovered he's sexually betrayed you. This wasn't supposed to happen in your marriage, and now you feel hurt, overwhelmed, and deceived. You hope he'll change but don't know if you'll ever be able to trust him again.
You can begin healing from broken trust in just 12 steps. The Pathway from Betrayal to Healing is a program written by Dr. Carol Erb.  It is her mission to guide women through their own recovery process. To give them the support, tools, and advice so they don't have to navigate this journey alone. To help them restore trust in themselves, save their marriages (if possible) and increase their faith in GOD.
Don't wait another day.Get the guidance you need to move from pain and sadness to trust and hope. Your recovery journey is completely laid out for you and Dr. Carol Erb is a trusted guide.  Click here to begin your first step towards healing.  or call 843-379-0288